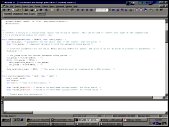 The first assignment of the course I started took more time than I thought it would. The good news is that it's also a lot more useful than I thought it would be.
I've been working on the first assignment from around 12:00 o'clock till now. Sasha has also been writing a paper so we spent the day quite useful.
It will be another hour or two: two small Java programs and some documentation and then I'm done.