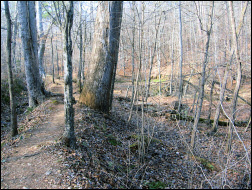 Yesterday I went for a walk in the William B. Umstead Park.
This State Park is located between Durham and Raleigh. The entrance to the park is actually from the highway I take to work, the I40, but I had never really paid attention to the signs. The other day my colleagues recommended the park.
I started at the Reedy Creek entrance and I walked the Company Mill Trail, a little under 6 miles. It was cold but sunny and a great day to go for a walk like this, and I enjoyed it.
I walked for two hours and 15 minutes. Some pictures.