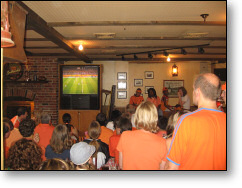 Today we saw the game between Portugal and the Netherlands in the knock-out rounds of World Cup 2006. Portugal won with 1-0, eliminating the Netherlands from the tournament.
It was a very rough match: there were 4 red cards and many, many yellow cards. I felt that the Dutch team was playing much better than Portugal, but at the end of the day the Portugese scored and Holland didn't, bringing the game to an unfortunate 1-0 result.
We saw the game in James Mackey's Pub in downtown D.C. The pub was dedicated to the Oranje team, courtesy of NL Borrels, a Dutch social club. Everybody in the bar was wearing orange and cheering for Holland. There were even kroketten to complement the Dutch company and Heineken. A sad ending of an otherwise very nice weekend.