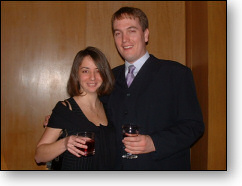 Tuesday was the Christmas celebration of my company in Washington.
The party was in Georgetown, in the Four Seasons hotel, a beautiful location. We arrived at the party at 7.30 pm. We had drinks and it was nice to introduce Sasha and my colleagues to each other.
The company has been growing a lot, and there were more people attending the party than last year. Dinner was very nice, and we had a lot of fun at the table. We left the party around 11 pm.
A colleage took a lot of pictures; the picture here is one she sent.
Wednesday we had an easy evening. I cooked Polish kielbasa which is pretty similar to Dutch sausauge (rookworst), I felt it appropriate to cook some winter food in this weather.