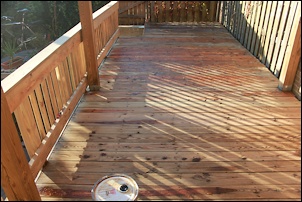 Over the past 6 weeks I've been working on our deck. In July I fixed the lower part of the deck by replacing all the boards, but that wasn't really needed for the main deck. Nevertheless, there was a ton of work to do. I flipped over about 20 boards, power washed and sanded everything.
I took a day off on Thursday and applied the stain. It's an oil base stain (Armstrong Clark) and it was easy to apply. I started at 10.00 am and by 2.30 pm I was done.
We unexpectedly got some rain Thursday night but with an oil base stain that isn't as much as a problem and except for one or two minor spots that I'll redo, everything looks great.
I still need to finish the railing and balustrade, but at least the deck itself is ready for the winter now.