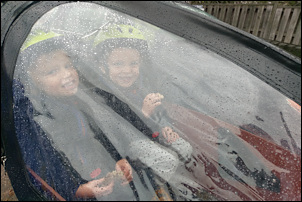 Nora is slowly recovering from the flu. It started Tuesday evening with a sore throat; the next day she skipped her gymnastics and since then she's been in bed all day.
Today she started perking up again. When we were talking with Opa & Oma she joked that Adrian was a unicorn (eenhoorn) when they asked about the fabric sticking out of his bicycle helmet.
I took the boys to Whole Foods twice in a row, which was a lot of fun. Nora was jealous and asked when it was her turn. I explained that being sick is supposed to be boring. Today's trip to the store was through the rain; the boys loved the cover and said our bike is now the Batmobile (they learned about Batman recently).