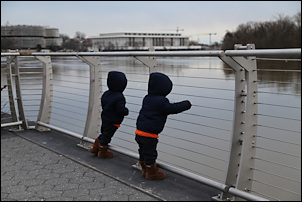 In the afternoon we spent some time in Georgetown. We had a package to return in one of the stores, so I dropped Sasha and Nora off at the store, and then parked a little further away. We parked on P street, the same street where we lived for a while.
From there we walked down to the waterfront park, where we watched the seagulls and a boat.
Walked back up the hill, a police offer showed off the lights of his cruiser to the boys, who were duly impressed.