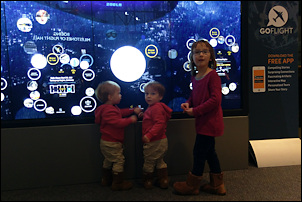 We went to the Air and Space museum yesterday afternoon. The boys had been to the Udar-Hazy building with Opa & Oma, but never in the main one. We spent an hour and half there.
In the exhibition about GPS there was a life-size cut-out of a fireman. This made a deep impression on Adrian. Later he said "meneer! helm! [gez]ien!"
The boys also liked an early example of a self-driving car, and the statue of the first dog in Antarctica.
Later we went for dinner in the Silver Diner.