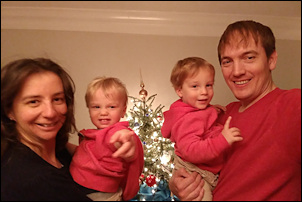 We woke up our usual time -- around 7.00 am -- and it took about 15 minutes before all the kids were fully awake and downstairs. Like every day, they are excited to discover what's happening in the living room and watch through the windows to see what's going on outside.
Sasha and I had a nice New Year's breakfast -- after everyone else had their cereal with strawberries. We had the Vienna concert on in the background. Then we Skyped with Middenmeer -- Opa & Oma and Ettie & Gerben and the kids. Opa had a cold, too. Then on to Perushtitsa.
Afterwards we went for a New Year's walk to the playground and back.