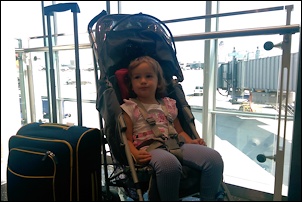 My last visit to the Netherlands was in 2010 -- when Jasper was just born. For Sasha it had been a full decade. She left to Washington, DC in September 2004.
Our flight was at 5:15 pm from Dulles Airport on Friday August 15. We packed our belongings the night before, and then worked hard in the morning to get everything ready on time. Our neighbors Ginny, Judy, and Yong Hee helped with looking after the house and our plants while we were gone, much appreciated.
Nora was excited about the trip. Somehow she is more impressed by the taxi part than the flight, she kept talking about how we would take a taxi to the airport. In our hand luggage we brought a blanket, Meneer Prascho, her giraffe and her pillow. Sasha and I didn't sleep much on the flight to Copenhagen, but we created a little tent for Nora using a blanket and she slept an hour or two. From Copenhagen we took a connecting flight and then we were at Schiphol!
Opa and Oma were waiting for us and we saw them from behind the glass. Nora was a little shy but then waved. Our luggage arrived quickly.