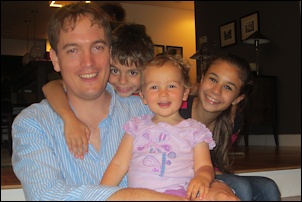 We celebrated Julian's birthday this weekend. The trip to Secaucus on Friday afternoon took longer than usual, and Nora was getting a little annoyed in the car, but once arrived we all had an excellent time.
On Saturday Julian and Ilana went to see Spiderman on Broadway, a great experience for them. Nora had a blast with her cousins. She was sometimes a little scared of all the energy and noise and jumping... but she kept saying "Julian! Ilana!".
On the way back Nora slept the entire trip, she woke up 20 minutes before we were home.