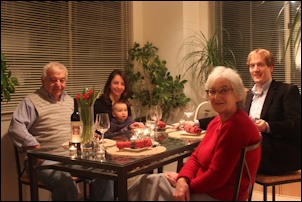 Yesterday we celebrated New Year's Eve with a nice family dinner with Milan and Nadia. Food was our beloved traditional set of dishes -- mlechna and ruska salad, roasted turkey on home-made sauerkraut and Nadia made a great baklava dessert. A bowl with oliebollen complimented the meal.
I've had a cold the last few days and while I've recovered, Nora just started having a stuffy nose so she wasn't sleeping well. At 11:30 pm she woke up, angry that she couldn't breathe through her nose, and we picked her up and we welcomed the New Year with her. We saw the ball drop on Times Square for a few minutes, and then danced to welcome 2013.
We'd like to wish our readers a happy 2013 and all the best for the new year.