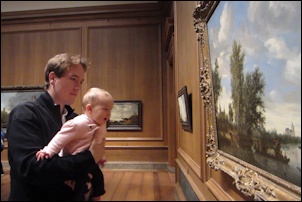 It was a rainy Sunday today and we decided to visit the National Gallery of Art. This was Nora's first visit to a museum and she enjoyed it.
We watched several paintings together and she seemed to like them, especially the Van Gogh ones.
On the picture we are looking at Salomon Van Ruysdael's Rivierlandschap met veerpont. The painting was part of the Goudstikker collection and acquired by the National Gallery in 2008. Until 2005 it was on display in Amsterdam's Rijksmuseum. A beautiful painting.
On the way home Nora fell asleep in the car.