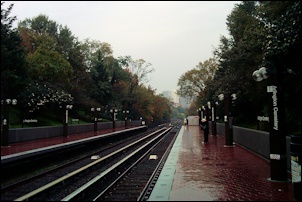 Last weekend I had to get used to being back on the East Coast -- Friday I went to bed at 2.00 am, and Saturday after midnight again.
I must have been sleepy later in the week also. I took the metro in the morning, and all of a sudden we were above ground! That was quite a surprise. I had taken the wrong line (blue instead of orange), and I had to switch trains back at Arlington Cemetery.
Yesterday there were drinks and bitterballen at Mackey's bar, a few minutes from our house. That was a lot of fun. Yesterday we also heard that we can stay a little longer in our temporary apartment which is nice because we still have quite some unpacking to do. This weekend we'll go to the new place and tackle some more boxes.