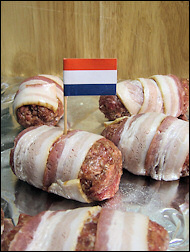 I got nostalgic for a dish that I haven't had for a long time, a slavink.
A slavink is a meat patty wrapped in a thin layer of bacon, based on a Dutch recipe. We used to eat them frequently in Holland. The are sold pre-made in most butcher stores and supermarkets, and I had never made them by hand before but I found a good recipe online.
The author of that (great) recipe presumably lived in the US for a long time, since he writes: "We eat them here with vegetables and potatoes but they are also good cooked on the BBQ and served on buns with ketcup and mustard."
The patty is made of a mixture of ground pork and group beef, with seasonings. I'm pretty sure that the (breakfast) bacon that I used is a bit different than the ontbijtspek you'd use in the Netherlands, but I found a brand that wasn't smoke flavored so the end result was pretty authentic. We had a great meal, with some rice and a green salad, and I made some extra that I'm keeping in the freezer for busy days.