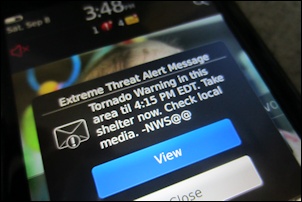 Sasha and I were getting ready to go for a walk when I saw a new icon flashing on my phone. It was an emergency warning for a potential tornado nearby. It gave us enough time to clean the balcony and of course we stayed inside.
Interestingly, I received the warning email only at 4:06 pm.
We had some pretty heavy weather for 20 minutes but the worst seems to have passed. We still have electricity and internet, also.