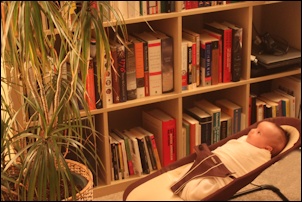 Nora is paying close attention to the books in the living room. Her parents are hopeful that this is the start of a lifelong love for books.Slowly but surely Nora is starting to communicate with us. This weekend Nora had her first 'conversation' with her mommy — she listened when Sasha talked to her, and even make cute noises in reply.
She clearly hears and recognizes our voices now. Yesterday she was fussing in her crib, and when I got close and just asked her "Hey, what's going on?" she stopped immediately. I kept talking and then she smiled, melting my heart.
Another very positive development is that she seems to like books. Well, at least she looks at the bookshelves keenly when we place her in her chair. She must like the colors and the patterns.