We had a wonderful and very romantic weekend in Paris. It was super to see each other and to spend time together. Neither Sasha nor I had been in Paris before, which made our visit even more special.
Friday, April 9th 2004
My train journey was quick and comfortable, with coffee and a magazine. I arrived around 11:00 o'clock at Gare Du Nord, the northern trainstation of Paris. From there I took the metro to the hotel.
In the afternoon we went for a walk, after we had our first French lunch together. The first place we went to was the Eiffel tower, or Tour Eiffel in French. It was larger than I had imagined and quite impressive. We took the stairs to the 2nd floor, where there was an elevator to the top. We had a great view over the city from there.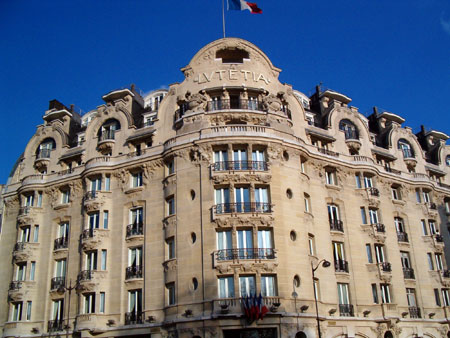 The hotel we stayed in, Hôtel Lutetia, is right in the center of Paris -- very nice.
Saturday, April 10th 2004
Saturday we took a day-pass for the open buses that go around the city, called l'Open Tour. This was a great way to see the major tourist attractions of the city, such as the Arc de Triomph, the Notre Dame etc. We went on and off the various buses a couple of times, to have lunch and coffee, and just walk around. It was really fun to explore the city like this; we saw a lot in a relatively short time.
I took quite some pictures; here you'll see a few, of the Arc de Triomph and Tour Eiffel photographed from our bus, and Sasha in front of the Notre Dame.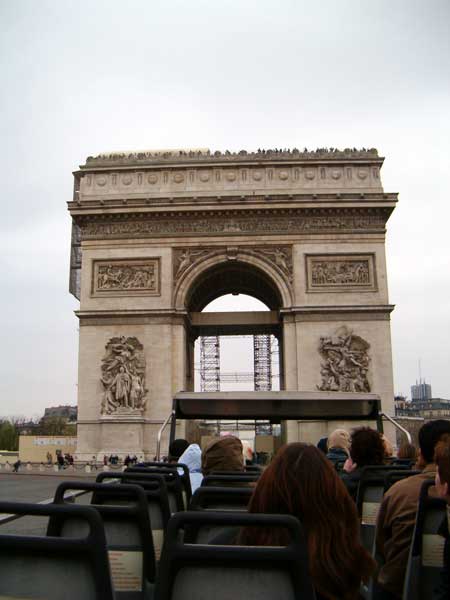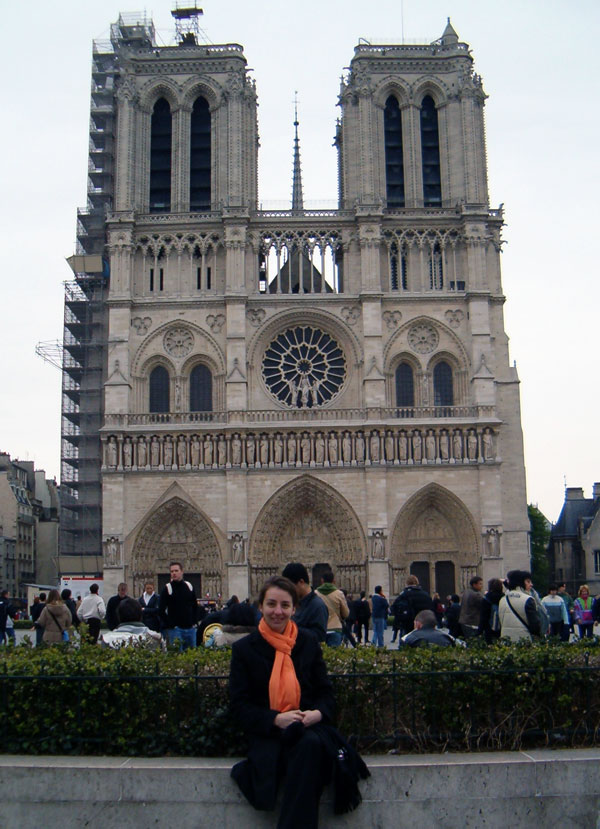 We ended our bus-tour around Madeleine, a church. From there we walked back over the Concorde, a beautiful square, where we had a view over the Champs Élysées at night. We walked next to the Seine to the Louvre, then to the Latin Quarter. We saw the Eiffeltower lighted, which was very pretty. There was a big spotlight on top, like a light house.
In the evening we went for dinner in a very cosy Jazz Café, "Chez Papa". There was life piano- and contrabas music, French red wine and of course: great company. A wonderful evening.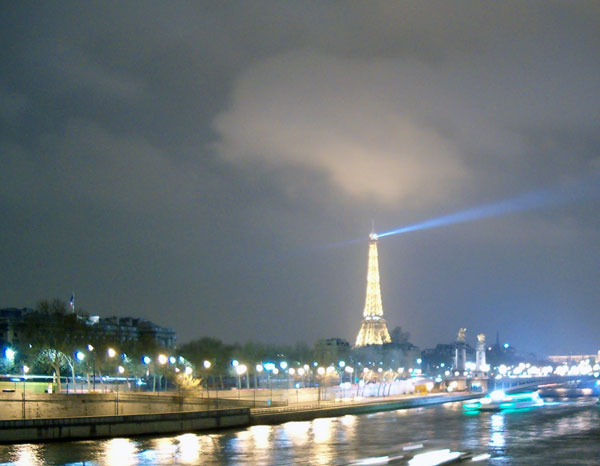 Sunday, April 11th 2004
Sunday we had breakfast on a terras in a street near us. We were together, the sun was shining and we had coffee, French bread and French cheeses.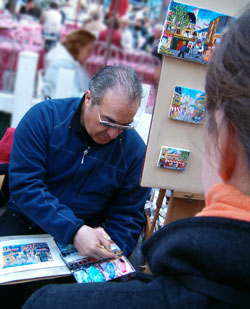 In the afternoon we went to an area in the northern part of Paris: Montmartre. First we saw the Sacre Coeur. As the weather was getting really nice we enjoyed the sun there for a long time. The area there was very beautiful, with many small streets. There were a lot of artists there too.
From the little streets of Montmartre we went to the region around Moulin Rouge. This is the red light district of Paris, it's rather shabby but it was fun to see.
At night we had dinner in a very good restaurant. All the food was great but our pre-dish was the most interesting. It was a huge plate with many different types of seafood: clams, oysters, shrimps, escargots... very delicious.
Monday, April 12th 2004
Monday morning we spent in the area around the hotel. We had coffee together and enjoyed the sun.
Then we went to the airport, Charles de Gaulle where Sasha's plane left around 16:00 o'clock.
I went by local train to Gare Du Nord. I had a train ticket for 19:00 o'clock, so I had plenty of time. Then when I arrived I saw that there was another Thalys was leaving to Amsterdam in just a few minutes!
I ran for the train and I just made it -- I was happy that I had flexible ticket. This way I was home two hours earlier than I had expected; around 22:00 o'clock.
A wonderful weekend, in a wonderful city.