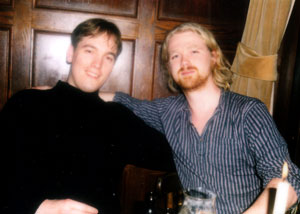 Yesterday Jerry and I went out in Amsterdam. We met at Centraal Station, where a special edition of the Volkskrant about the death of Princess Juliana was distributed for free.
First we had dinner in a Thai restaurant at the Nieuw Markt. There was really delicious food and a great atmosphere. It's just that next time I should remember the pepper is really spicey. We talked about a lot of things; Jerry is now working on a research proposal.
Then we went for a walk through the city. It was nice to see Amsterdam at night; it was windy but not cold.
After a while we found a pub in the Jordaan, with nice Duvel and Triple beers but strange enough without music. We agreed that it would be a nice idea to watch the results of the American elections in November together. Every now and then a guy with a camera would come up and ask if he could make a picture, and although we routinely turn them away this time we let one of them take a picture.
We walked together to Centraal Station, where we saw a crowd of people going to their buses. They told us that had done the Stille Omgang.
It was a really cosy evening. I took the last train to Haarlem and was home around 2:00 o'clock.