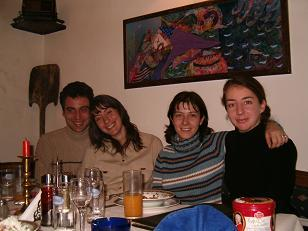 Yesterday we traveled from Perushtitsa to Sofia. It was warm in de bus, and we found some English magazines so the journey went quickly. The trip took about 2,5 hours.
First we went to Svetla and Radoslav's apartment. Finally we were able to give them their wedding present!
I received some nice presents too, among which a very useful part for the server of Guus Bosman.nl (for the insiders, it's a raid controller). When I'm back in Holland I'll write more about it.
We spent the evening in a restaurant near their house, and We also met Milena there. She's a friend of Sasha that somehow I had never seen before. It was great to finally meet her in real.
The restaurant was wonderful, the best one I've seen till now in Bulgaria. The food was delicious, very polite service and the fact that they served wine from Perushtitsa helped a lot too. And of course... a long night ;) We stayed almost five hours in the restaurant, and later we went to a bar.
I'm using Radoslav's computer now (thanks!), hopefully we'll be able to send our New Year's card in a little while.