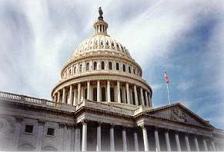 On my first day here I saw the White House. Today it was time for the other 2 branches of government: Congress and the Supreme Court.
I went for a tour through the Capitol, the building where the Senate and House of Representatives are. It was really very nice, the guide had good stories about the history and present of the Capitol. After the tour I went to see the Chamber of the House of Representatives, which is the room where the President holds his State of the Union speech.
After wards I went to the Supreme Court. I was there yesterday afternoon as well, but the main hall (where the judges work) was closed, because there was a session. Today it was open to the public, and a lady gave a short lecture on how things work at the Supreme Court. It was very nice to be inside such an important institution.