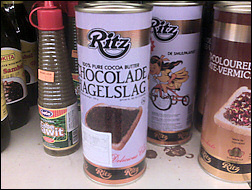 Here's a nice example of a cross-over food: Dutch style hagelslag, produced in Indonesia and imported into the United States.
The packaging has an image of a girl on a bike, and it says "smulpaapjes" on the side -- clear pointers to a Dutch heritage.
Hagelslag is a very popular sandwich topping in the Netherlands. In the US it is referred to as 'jimmies' or 'chocolate sprinkles' but is not typically used for sandwiches but more for cake decorating.
I saw this hagelslag last week in Grand Asia Market in Cary, NC; it's also available online. I brought a package from the Netherlands and that will last us a long time, so I won't try the Indonesian product anytime soon.