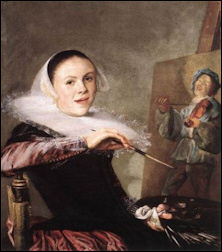 I just discovered through a review in the WSJ that the National Gallery has again a great exhibition of a Dutch 17th century artist, this time about Judith Leyster.
I don't know Judith Leyster's work, but she worked with Frans Hals and was one of the two only women accepted to the Guild of St. Luke in 17th century Haarlem.
The exhibition will run through November 29 and Sasha and will definitely go check it out, probably in September. According to the WSJ: "She deserves attention".
I'm also very excited about "The Complete Rembrandt, Life Size", an show with life-size reprints of all known works by Rembrandt. It's on display in Amsterdam, which I'll visit in about two weeks.