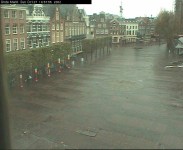 It's been a while since we had such an easy Sunday. Late breakfast, coffee... and now catching up with some magazines and books to read.
The wind is really strong here; happy we don't have to go outside.
As you can see on the Haarlem webcam the Grote Market is completely empty.
On the Spaarne the waves have white heads, just like the sea.