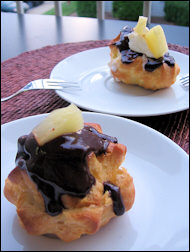 Today we baked a dessert, French profiteroles. It was a wonderful success.
Interestingly, it turns out that the recipe for profiteroles is very similar to my favorite Dutch gebakje: the moorkop. The difference is the filling; instead of ice cream a moorkop is filled with whipped cream.
We tried both versions -- the French profiteroles with vanilla ice cream, and a small moorkop. The bakery in Middenmeer serves moorkoppen with a piece of pineapple on top.
It's a neat idea that we can bake our own pastries, even a good old moorkop.