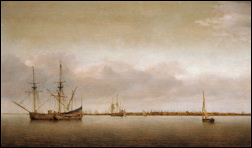 This weekend we made a wonderful trip to Washington DC. On Saturday we arrived in time for lunch at The Boulevard Woodgrill in Arlington, the area where we lived for two years. Lunch there was great, just as we remembered it, and it was a lot of fun to be back in the Courthouse area.
We spent time in Georgetown and in the evening we went out around Dupont Circle, with an excellent late night dinner at Pizza Paradiso. A very small, very friendly place with very good pizza.
Sunday morning we visited "Pride Of Place: Dutch Cityscapes of the Golden Age" in the National Gallery of Art. This exhibition is a corporation between The Royal Picture Gallery Mauritshuis in the Netherlands and the National Gallery, and combines works from those museums with many other paintings from all over the world. I first read about it in December when it was showing in the Netherlands.
We spent a long time in the gallery; it was truly wonderful. A highlight of the exhibition for us was "View of Hoorn", by the relatively obscure painter Abraham de Verwer. Together with the two Albert Cuyp paintings this work was a beautiful showcase of 'Dutch light'.
I also liked the 2nd View of Hoorn, by Cornelis Vroom, which had a lot of fine detail and was a beautiful big overview at the same time, and there was a surprising painting by Ruisdael from the top of the newly build city hall in Amsterdam (now the Royal Palace). Vermeer's View of Delft was not there.
There were many maps of the Netherlands, and it's always cool to see Opperdoes, the village Ettie and I were born in, on a map of 500 years old.
One of the maps we having in our living room was the inspiration for a painting by Jan Micker that looked like an aerial view of Amsterdam, with the clouds creating a black and white pattern on the city.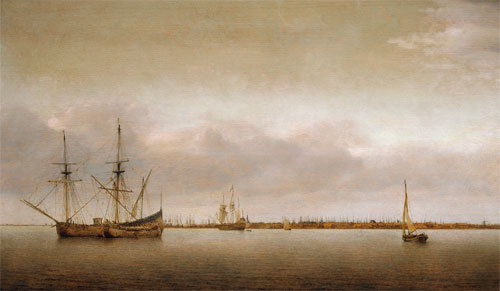 View of Hoorn by De Verwer.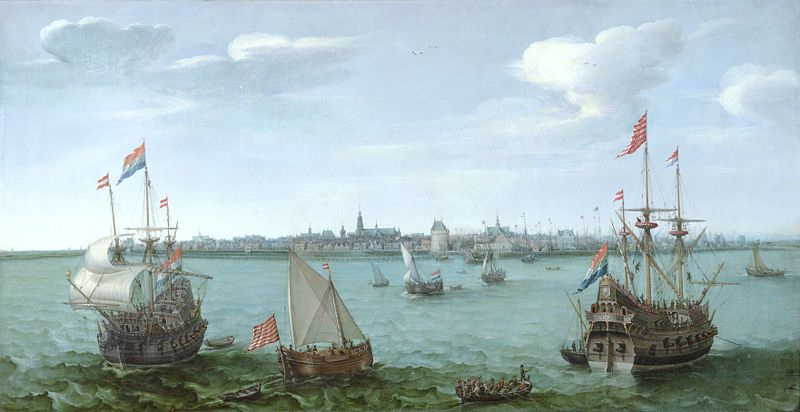 View of Hoorn by Cornelis Vroom.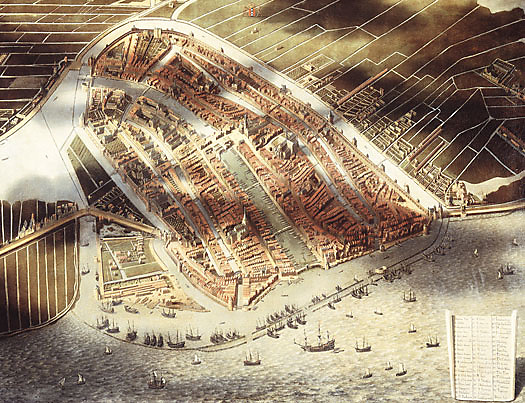 A map of Amsterdam by Jan Micker, after the original by Cornelis Anthonisz. We have a reproduction of Anthonisz' map in the living room.
A Pier in Dordrecht Harbor.