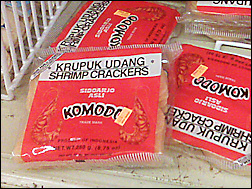 I realize that it may sound like I do nothing but cooking these days. Having said that: tonight we cooked nasi goreng with real krupuk and it was great.
Nasi goreng is an Indonesian fried rice dish which is popular in the Netherlands.
In Grand Asia, an Asian grocery store near my work in Raleigh, I found real Indonesian krupuk; crackers made of shrimp. They are deep fried for a minute or so in the pan and expand to three times their dry size.
Last but not least I experimented with a peanut sauce from Hong Kong, and that was a very lucky choice. It was delicious, a great combination of sweet and spicy at the same time.