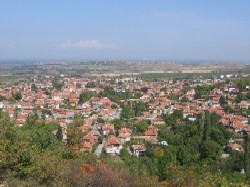 Saturday afternoon my plane landed in Sofia, and Milan and Sasha were there to pick me up from the airport. It's really good to see everybody again.
Our first dinner started with shopska salad and rakia, and chicken with a great side dish kiselo zele (one of my favorites). Kisole zele is pickled cabbage and it's baked in the oven with the chicken.
I slept in until 1.00 pm the next day; we had an easy day and spent a nice evening with Rangel, Iordanka and Renche.
The previous two times I was in Bulgaria in the middle of the winter; it's nice to see everything so lush and green now.