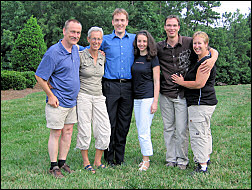 Ettie and Gerben, my sister and her husband, arrived in Durham!
They were at home when we arrived home yesterday, and it was great to see them again. It's been so long since we've all been together! So that asked for a picture to be taken.
In the evening went together to the Cheesecake Factory in Southpoint Mall, and the guests were duly impressed by the huge portions. A very nice evening.