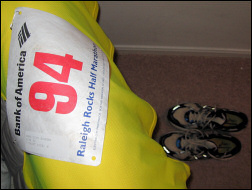 After a short night (we watched a documentary until 11.30 pm) I'm now getting ready for running in the rain... or not running at all!
I won't know until I arrive in Raleigh, but the weather looks really bad and if it storms and there is thunder the race will be canceled.
From the website:
"As you are, we are keeping a close eye on the forecast for this weekend. Because of the way weather systems work, these forecasts can change quickly by speeding up or slowing down, so we will not make any decisions until Saturday morning."
Let's hope for the best! I really want to run this race and I certainly don't mind running in the rain (thunder is something else of course).