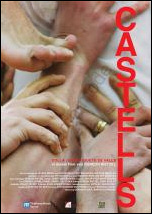 Tonight Sasha and I saw an absolutely delightful movie, Castells. It's a documentary about people in Catalonia, Spain who create large human towers.
The movie has breathtaking visuals, but it offers much more than spectacular images of this intriguing sport. The movie shows the social life of the villagers and the preparations by the colle, the participants in these Towers, workings towards big festivals and holidays (see the movie trailer).
These human towers are truly fascinating and I had never heard of them before. A Tower can be up to 9 stories high, and the upper layers are formed by small children. In the movie there is one little girl , Zoraida, who is scared and only climbs to the 8th layer in a training. These little kids are completely incorporated in this sport and are expected to perform with the adults-- Zoraida is perhaps 4 years old.
Every now and then the tower would collapse and everybody will fall on top of each other. True harm seems to be rare, although the children sometimes get bruised and cry. The movie is touching, funny at times and an absolutely recommended film to see.
Castells is the opening night movie of the Full Frame festival here in Durham, which is the largest documentary film festival in the U.S. I'll be watching a lot of documentaries this weekend, and even if they're only half as good as Castells then this will be a great weekend.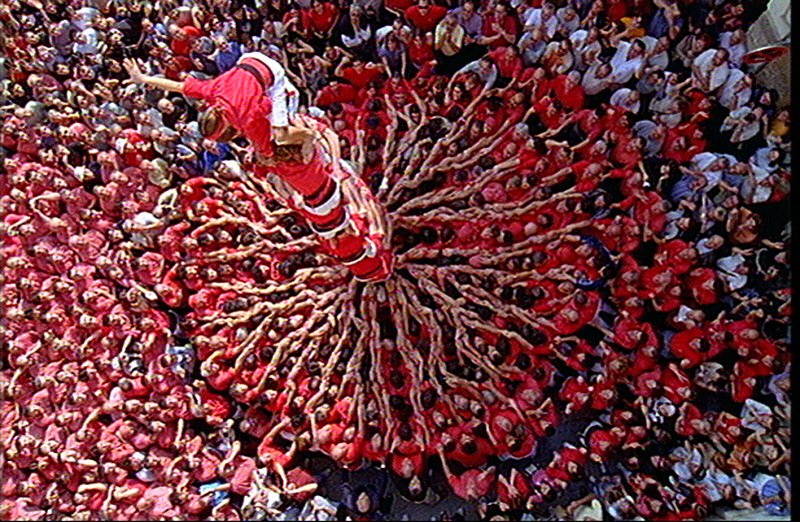 A scene from the movie where the colle is building a castell, a human tower.