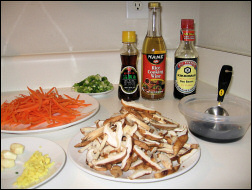 There is something very relaxing about preparing a meal, and I enjoy cooking a lot. Especially in the weekend I like to cook somewhat more elaborate dishes. I've been experimenting with new recipes the last few weeks, and tonight I tried two Asian dishes.
I made Thai Noodles, a very tasty stir-fried noodles dish with a coating based on fish sauce and soy sauce, with jalapeños peppers and garlic. I've made it twice before but tonight it was a lot more spicy than the previous times. I think I didn't clean out the spicy parts from the jalapeño pepper completely, and I can still feel the burn on one of my fingers also.
Next to the noodles I prepared a new dish: stir-fried shiitake mushrooms with carrots. I had never cooked with fresh shiitake mushrooms before, and wow, they are so delicious! I stir fried them with sliced carrots, ginger and a sauce based on rice wine, soy sauce and sesame oil.
Stir-frying is one of my favorite cooking methods and it has a wonderful dynamic. First, I spent about an hour preparing. Slicing, chopping and measuring and mixing the sauces -- everything slow and methodical, cleaning up the kitchen as I go. Then the last part is completely different: as soon as I put the noodles in the boiling water there are 10 minutes when everything happens at once. It requires some planning and it's great when everything is ready exactly at the same time.
It was a delicious dinner but next time I won't combine two stir-fry dishes, no matter how much fun the cooking is. It's nicer to have more variety in cooking style on the plate, like boiled rice or plain noodles. I marinated chicken with a ginger and hoisin sauce for tomorrow.