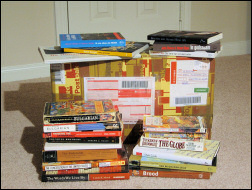 My parents store our old belongings on the attic of their house, and when I was in the Netherlands I spend an afternoon going through them. I found a lot of the books that I had really missed in the last 2 years.
In the week that I was in Holland I also bought a couple of books. Mainly about Dutch recent politics and some nostalgic literature.
I brought some of the books with me in my luggage, but there were way too many to bring all of them. I sent the books by economy mail from the Netherlands to Durham (8.4 kg/18 pounds). The books had been in transit for 8 weeks, but they arrived on Saturday in good shape.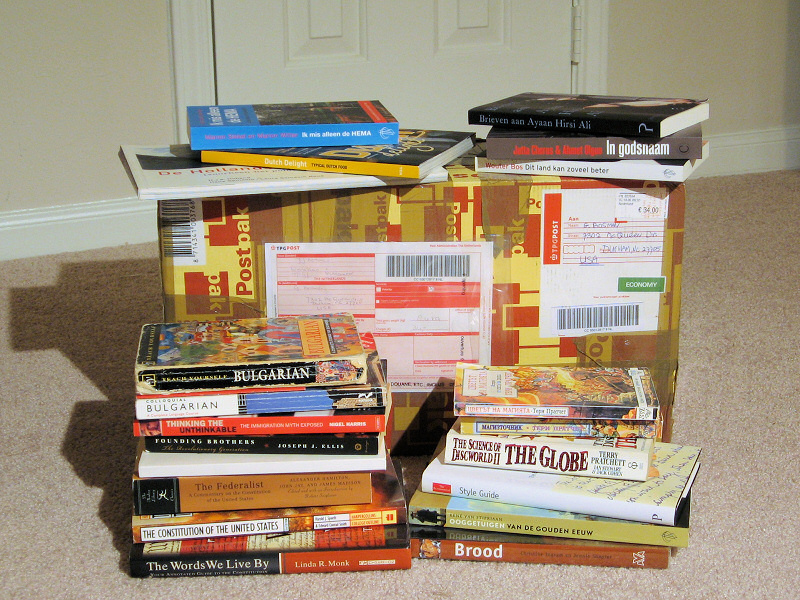 Books I brought:
Colloquial Bulgarian
Thinking the Unthinkable
Founding Brothers
Bulgarian for Foreigners
The Federalist
The COnstitution of the United States
The Words We Live By
Economist Style Guide
The Globe, the Science of Discworld
The Color of Magic (in Bulgarian)
New books, that I bought when I was in the Netherlands:
Brood
Ooggetuigen van de Gouden Eeuw
Dit land kan zoveel beter
In Godsnaam
Brieven aan Ayaan Hirshi Ali
Ik mis alleen de Hema
Dutch Delight
De Hollandse Metamorfose