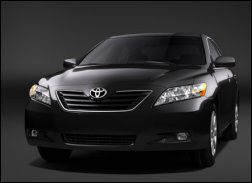 Yesterday I received an e-mail from our dealership that our new car had arrived: a black Toyota Camry 2007.
Yesterday afternoon I bought my insurance online, and around 3.30 pm I went to the dealership to sign the papers. We bought the car from Fred Anderson Toyota, and our experience with them was so much better than with Marc Jacobson (in Durham). When we went to look with a car at Jacobson, they really tried to pressure us into buying on the spot, and gave us a wrongly calculated quote, using a different APR than they told us they were using.
Things were much better at Fred Anderson, and the sales personnel was friendly and not pushy at all. After signing the necessary documents I saw our new car -- it's beautiful!
Yes, we are buying the Toyota Camry 2007, and it's a great car. In black of course (black is cool).
I am going to the office now after a nice MSN chat morning, to make up for the fact that I left at 3.30 pm yesterday. I must say I don't mind -- I get a chance to drive my new car.