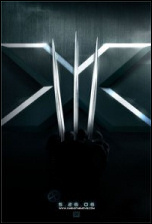 Saturday evening we saw X-Men 3, The Last Stand, the third film adaption of the X-Men comic books.
We saw the first movie about a year ago, and two weeks ago we saw X-Men II on TV, so we were well prepared. We had enjoyed the first two movies very much, and yesterday we were very pleasantly surprised with the 3rd one.
It is not common for a sequel, let alone a second sequel, to be as good as the first movie, but X-Men the Last Stand was delightful. Intelligent, surprising story lines, good acting and of course brilliant special effects made for a really good Saturday night movie.
The movie theater was packed, and most viewers were very enthousiast about the movie as well. For those of you who are planning to see it: make sure you stay all the way until the end of the credits -- there is an interesting surprise scene.
After the movie we went to Four Courts and had drinks and a light dinner.