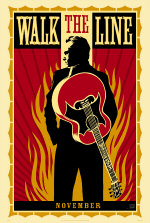 Saturday night we saw Walk the Line, an award-winning movie on the lives of Johny Cash and June Carter.
The acting by Joaquin Phoenix and Reese Witherspoon was very, very good -- the Oscar for Witherspoon was truly deserved and I'm surprised that Phoenix did not receive more awards than he did. Both of them performed all the songs in the movie themselves.
I didn't know much about Johny Cash or June Carter before I saw the film, but I'd seen the famous concert in Folsom Prison, which place a part in the movie too. It must have been a really nice concert to attend, except for the fact that being in the audience implied that you would stay in that jail for quite some longer time.