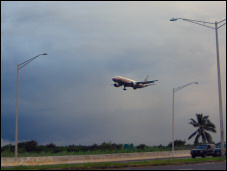 I arrived in Puerto Rico around 10.30 pm today. I had to do some things in the office in the morning so I couldn't take the early direct flight, instead I traveled via Miami.
Based on my experience the last time, when my bag never arrived in Puerto Rico and was only located when I was back in Washington, I packed everything in my hand luggage.
I flew with American Airlines, and I really enjoy their level of service. The best part was that on one of the radio stations in the plane they had an Enya special related to her Amarante album. On both flights I listened to Enya almost non-stop. It was excellent.
It was raining in Virginia, obviously it's much warmer here. Yesterday the weather man on ABC mentioned that it would "snow on Pennsylvania Avenue" (downtown DC). I was surprised to hear that because it's been really nice weather lately. It wasn't until this morning that I realized that the weather man was jokingly referring to Mr. Snow, the new press secretary for President Bush who started his new job today.