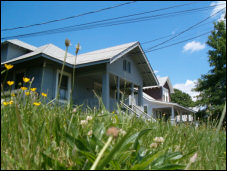 A house in the suburbs of Arlington, Virginia.
Just a few minutes from the high-rise building that we live in, you'll find typical American houses in the suburbs. A collegue calls it the "real Arlington", unlike the urban Rosslyn and Court House areas. Many of the houses are wooden.
A nice May picture with spring flowers.