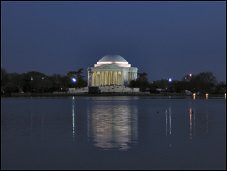 Last night Sasha and I went for a walk to the Tidal Basin. I took the metro to her work and we walked from the Bank to the White House, from there to the National Mall and then to the Tidal Basin.
It was already dark when we arrived, but even though we did not see much of the cherry blossoms it was a nice evening.
We'll probably go this weekend to see the blossom's during the day.