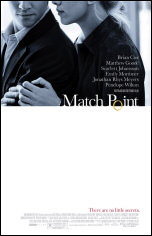 Yesterday we went our for dinner in Georgetown, to Bistro Francais. It's was the first time we were in this nice french restaurant, with a beautiful interior and good food.
We had a really good time and stayed till late in the restaurant. Afterwards we went for a late movie; we saw Match Point in the Georgetown Loewie theater.
Match Point is a story about an ex-tennis player who joins high-society in the UK by marrying a rich girl, and who falls in love with his brother-in-law's fiance. The film is directed by Woody Allen, and the main theme is Allen's long-held belief in the power of luck in determining people's destiny.
It's a good movie, a thriller, and although Jonathan Rhys-Meyers is not playing a very good role as the main character, the other actors are compensating for this (most notably Scarlett Johansson).