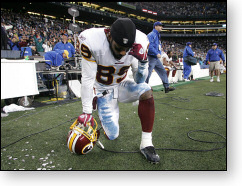 Today the Redskins lost the play-off game against the Seattle Seahawks with 10-20.
The game, played in a rainy Seattle, started with 3-0 score when the Redskins scored a field goal, but the Seahawks came back with a touch down before half time.
I learned a new English word, concussion, which means mild traumatic brain injury. One of the Seahawks players became injured in that manner, but his colleague Hasselbeck stepped in very effectively.
In the last quarter of the game there was a great opportunity for the Redskins to come back in the game but unfortunately it didn't work out. I watched the game in Ragtime, a bar where I went out with a few colleagues yesterday. I hadn't been there before, even though it is really near our house. This time there were no fans of the opposite team in the bar, so it was very quiet when the Seahawks where scoring their points.
I'm disappointed that the Redskins are no longer in the race for the Superbowl because I really enjoyed watching these last few weeks.
Unfortunately it will be quite a while before I can watch the Redskins again; the new season starts only in September, the weekend after Labor Day.