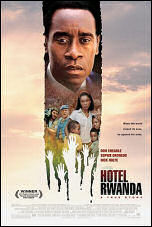 A while back we saw the movie Hotel Rwanda at home.
It was a very gripping film, about the horrible period in Rwanda in 1994. It's based on a true story about a hotel manager who uses his influence and skills to safe the lives of many people around him.
The story was double as gripping because of the superb action by Don Cheadle, who is very convincing as a hotel manager whose life dramatically changed as the horrific events unrolled in Rwanda.