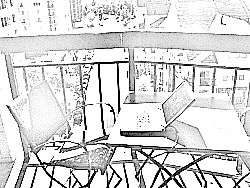 Friday night stayed at Jonathan and Irena's place (thanks a lot guys!), which was fun. We had a couple of beers in the evening. Irena just came back from Charlotte, NC, where she had been a week for a week for a her work.
Slept in Saturday morning, and Jonathan later gave me a ride to the busstop in Secaucus. The bus I took to Times Square got stuck in traffic (again!) and I made it just on time. Another long, bus trip, but no work this time, I read "the Secret Life of Bees" instead (marvellous story).
We spent our weekend nice and quiet. It's nice and sunny and I spent some time on the balcony on Sunday, but it's really getting a bit chilly.