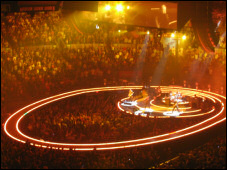 We were at the Madison Square Garden around 19:00 o'clock -- a bit early but we didn't want to miss anything!
We had electronic tickets that we bought back in March, so we used a printed piece of paper to get in the theater. Our seats were on the second ring, looking at the stage from the back side.
It was very nice to enter the main theater of the Madison Square Garden. We took some drinks and at 20:00 the support act started: Keane, a British band. They played a number of their hit-singles, including Somewhere Only We Know and gave a very nice performance. Their piano player was extremely energetic.
The lead singer, Tom Chaplin mentioned a number of times how happy they were to be the support-act for U2, and everytime he mentioned the name "U2" the audience started cheering.
After Keane left the stage, a large crew came on stage and moved everything around. About 10 people climbed upstairs, to the lights and cameras, and after a while they left the stage and the lights went off.
U2 came on stage! The show started with City of Blinding Lights, a song from How To Dismantle An Atomic Bomb, U2's latest album. It's a very powerful song and a great way to start the concert.
There were so many great songs... a lot of songs from the latest album, but also many "oldies" such as Elevation and Where The Streets Have No Name.
There were two songs that I thought stood out: Stuck In A Moment, in a beautiful acoustic performance, and Fast Cars, at the end of the concert.
Suffice it to say that it was an incredible experience and we had a great time. We were singing and dancing pretty much throughout the entire concert (so was the entire audience). The concert was over around 23:30 o'clock.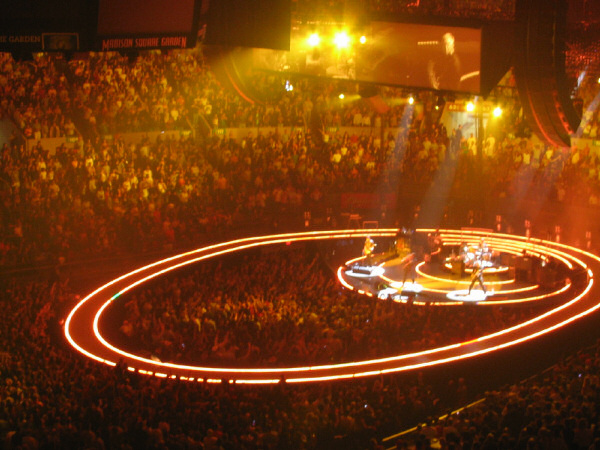 The podium.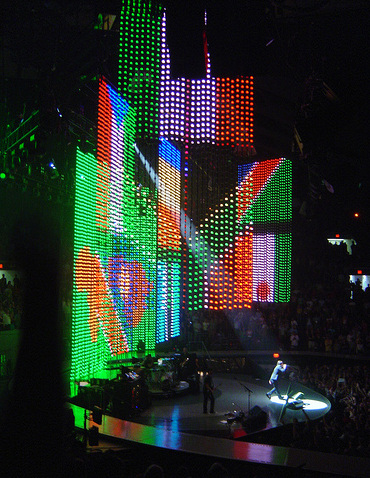 Where the streets have no name.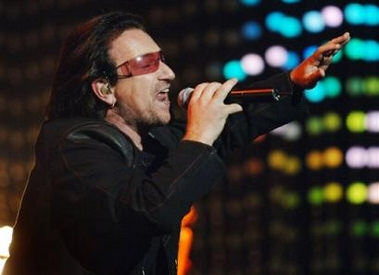 Bono.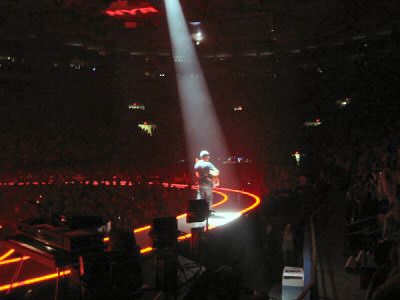 The Edge.