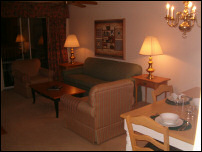 So, Friday night around 21:00 o'clock after a long trip we arrived in the Powhatan Plantation, our holiday park.
Powhatan Plantation is located just outside Williamsburg, Virginia, and it's a park mainly for time-sharing owners: people who buy a share in the company that manages the cottages and in exchange are allowed to stay a certain period of time in the park each year. A friend of Rosa has such a share, and she let us stay in the park -- thanks a lot!
We had a terribly nice weekend, but we're very sure that we'll never agree to such a time-sharing deal. There's hardly any flexibility, as you'll have to reserve your place in the park many months in advance. What's worse, the service in the park was pretty bad. Not that that interfered with our enjoying of the weekend, we had a great laugh about it, but I suppose it would feel different if you visit the park more often and for longer periods. Anyway: for us it was a perfect weekend, and the invitation came pretty much as a surprise; Thursday morning Rosa asked us to join.
The first item causing confusion between us and the people at the check-in counter was on when we were supposed to check in, Friday or Saturday. It was thanks to the determination of the ladies in my group and a printed e-mail that everything turned out well. When we went to the cottage that was assigned to us it turned out to be double-booked: we arrived exactly at the same time as another car in front of the cottage, and the lady told us they were assigned the same apartment number. Because they had small kids we went back to the office, where it took another half hour for the reception to figure out where to put us next. Beautiful park, nice cottages, but the people at the service desk are not the friendliest.
After the check-in we were offered a free breakfast in the restaurant, "...that will only take 60 minutes...". It took me a while to realize that they were inviting us for a marketing-talk over breakfast, to try to sell us a share in the park. We politely declined the offer.
Finally, around 23:00 o'clock we entered our cottage which was nice because even though we were in a good mood, two hours 'fighting' the check-in desk was becoming rather tiring after a long trip. The apartment was very nice! We were on the second floor, with two bedrooms, two bathrooms and a large livingroom. Our bedroom even had a steam-shower.
We had dinner together and drank a beer, and after trying the steam shower went to bed.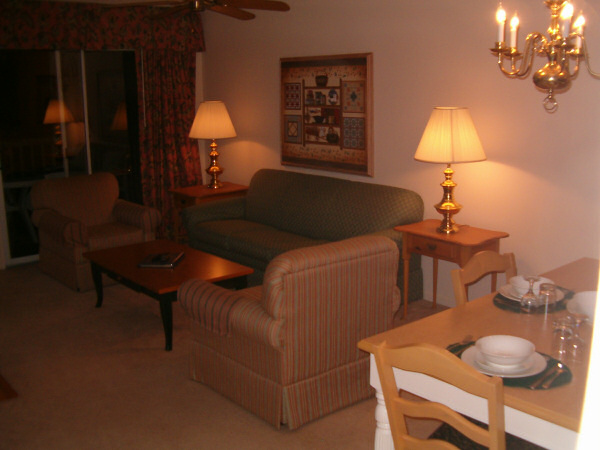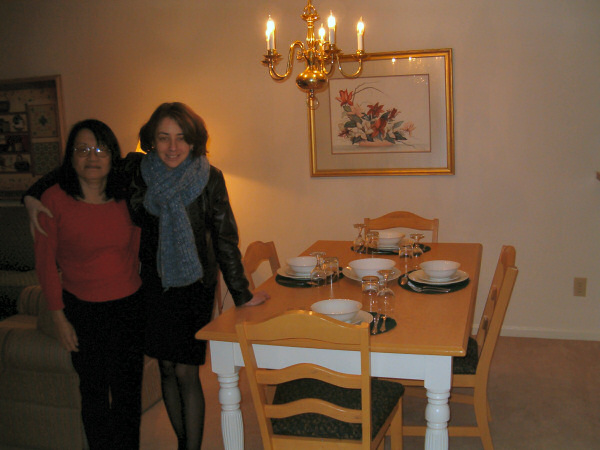 Rosa and Sasha, just after we entered the cottage.