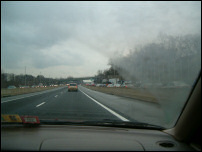 Friday I left work at 16:00 o'clock, a nice early start of the weekend. Rosa, Mila and Sasha picked me up by car near my office, and we were ready for the journey down south. Our destination was Williamsburg, a bit east of Richmond, the capitol of Virginia.
To go to Williamsburg, you'll have to take the I95, an interstate highway, and we were told that it would be pretty crowded on the way. Although it wasn't a three-day weekend, it was Easter and many people were leaving D.C. early with large traffic jams as a result.
The nice thing was that because we were with four people in a car, we took the "H.O.V.". This is a dedicated lane for cars with more than two people in it. We didn't realize that immediately, and got stuck in traffic for half an hour, but then we were able to switch to the dedicated lane and that was very pleasant: seeing all cars standing still, and we're passing them quickly.
It still was a long drive because the HOV was only 40 miles long or so. We took a break half-way and we arrived in Williamsburg around 21:00 o'clock: five hours by car.
Here you can see what the difference is between the HOV lane and the regular traffic, going southwards from D.C. on the I95.