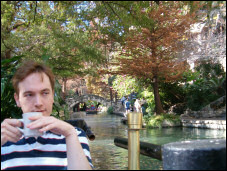 The second most famous touristic attraction in San Antonios is the Riverwalk (Paseo del Rio). The river that flows through the city is far below the streetlevel, and around the river are many restaurants, bars and places to sit.
This creates a very nice atmosphere, beautiful, alive but not too busy.
Here's part 2 of the 4-part series of pictures from San Antonios: The Riverwalk (see also part one).