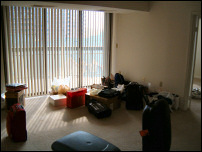 When we moved, now two weeks ago, it was a very busy time so I didn't have time to put all the pictures of the moving online earlier. I have placed a number of pictures online of the weekend when we moved from Rosa's place to our current apartment.
Yesterday evening we went to Pentagon City again, a mall nearby (a mall is basically a large shopping center). This time, we didn't have to get a lot of things. We took some small stuff for in the bathroom and the kitchen, like a rack for dishes, and we had dinner in a Californian pizza place there.
Yesterday afternoon I went for a drink with two colleagues, that was very nice.