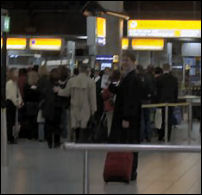 I woke up at 2:45 o'clock this morning. This is 8:45 Dutch time, a good time to get up, but I was rather happy that my body decided to return to sleep immediately. The second time I woke up it was 9:00: much better. I slept very well; I really needed some rest.
This weekend I stayed in Middenmeer with my parents and Ettie and Gerben. Sunday evening we went out to a pizzaria in Hoorn. I said goodbye to Gerben in evenning. The rest of us had a short night in Middenmeer: we woke up at 5:00 o'clock, and we left to Schiphol just after 6:00 in the morning. There was quite some traffic on the road already, but Ettie brought us safe and well to the airport. We arrived at the departure hall at 7:30 o'clock. I went to the check-in desk with Mieke, so I wouldn't have to walk around with my huge suitcase and bag. There was only a short line (no wonder, so many hours before departure time). Just when I was checking in Jaap and Ettie came back from the car parking, and they brought Steven with them. I was happy to see him because due to the traffic we were later at the airport than expected, and was afraid we would miss each other.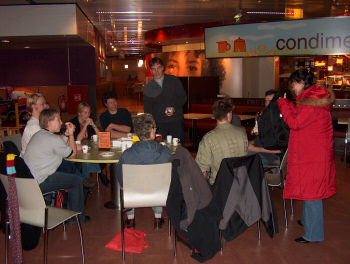 Around 8:00 o'clock we went to a restaurant where we had coffee and breakfast and many friends came to say goodbye. Daniel, Marjolein and Jerry gave me a very welcome present: a large apple pie with the suggestion that I could either bring it in my carry-on luggage or share it immediately with everybody who was there. Ankie, Jean-Paul, Jennie, Jelly, Joost and Richard were there, as well as Tibor and Janneke with their little daughter Fiona. Saying goodbye was sad of course, but seeing all these friends and family members was great.
This is a good time to say thank you: everybody who was there yesterday, and everybody who over the last weeks has sent me e-mails, supported me, came to visit, left comments on the website, gave me presents, helped me moving, called me, and wished me well: it means a lot to me, and I really feel stronger with your support!
My luggage turned out to be a bit more than 50 kilogram. My father had the nice suggestion to write down all the things I have brought to the States. That's a very nice idea indeed; I will do it because it will give a good impression of the physical things I really find important. Writing everything down will take some time, but two important categories are my coffee preparation set (including two espresso dish-and-cups, and the coffee machine my colleagues gave me when I left Chess), and a collection of useful computer parts (including two harddisks, a webcam and an UTP hub with network cables).
My plane left nicely on time. I had a seat at the emergency exit, which was very convenient: there is much more leg-space there and that's great on a 8-hour flight. I arrived in New York JFK airport around 13:00 o'clock local time.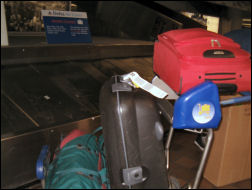 My travel agency had put me on a connecting flight to Washington 4 hours later, in case there would be big lines at immigration or at customs. However it was not extremely busy at the airport and after an hour I was at the gate for my next flight. I was getting rather tired, but there was a Starbuck's nearby. I called Sasha and my parents from the terminal using an phonecard I had kept from the previous time I was in the U.S. In the terminal a saw a large group of Dutch marathon runners, who did the New York marathon yesterday. Funny, I had just read an article in the Volkskrant Saturday on organized tours for marathon runners. Later I bought a package "breakfast blend" coffee at the Starbuck's shop, which we had this morning and which I'm drinking right now.
My next flight was short: we were in Washington D.C. in an hour. There is big difference in flying international or "domestic", as Americans say when they mean flying in the U.S. These domestic flights feel a bit like taking a the bus, unlike flying over the Atlantic which I still find a very special experience.
Sasha was at the airport to pick me up, and it was great to see each other. We took a taxi home, because of the luggage. Sasha showed me the new computer, and we had dinner together. I went to bed around 22:00 o'clock (local time).