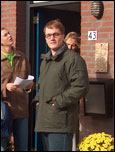 Today I participated in the making of an educational movie for students in (health) care. My father is the producer of a set of instruction movies and photographs for a large Dutch publisher, and today was the first day of a new recording series.
Today we filmed parts of a movie that depicts an internship of a health care student in a home for people with (mental) handicaps. The goal was not to create a long movie, but to describe various aspects of the daily live in such a home in short movie fragments of about one minute length. I played one of the people living there, a role in which I played a person with very bad vision. Next to the movie fragments a lot of photographs were also made.
It was a very interesting day. I met a lot of different people, and it was really fun to work together to create a movie.